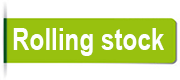 Traffic on the RTS line will be provided by a fleet of 14 trains, each consisting of two EMUs standard gauge electrified in 2 × 25 kV – 50 Hz. This fleet will participate, certainly, improvement of mobility and the quality of daily life in the cities of Tunis, and their economic dynamism.
Being a service area with high population density, the traveler has been placed at the heart of the choice of design, comfort, amenities, and the technical choices to be offered by the supplier of rolling stock. Thus the main assets that will characterize the trains to be acquired are:
Reliability
Punctuality
Modularity
Comfort
Information for passengers
Respect for the environment
Compliance with the needs of PRM and UFR
The trains will be equipped to acquire an architecture resulting from the application of the technical provisions in particular specifications regarding the modularity and scalability, integration in the layout, accessibility and livability and ergonomics and safety. Particular care should be given to the image of these trains, its integration into the city, its features, everything that can contribute to ensure a strong appeal and success. Thus, the exterior livery will be in line with the graphic charts of other modes of urban transport in the city.
The trains will offer derivatives already being manufactured, delivered and put into operation and must meet the following main technical requirements:
A lowered floor without steps or stairs to access to part of a pier height of 550 mm and a displacement fluid and very easy to board;
Maximum train length of 225 m that can provide a minimum capacity of 2200 passengers (a minimum of 20% of seats relative to the total number of places available) with the development of UFR areas and facilities for the visually impaired and persons with reduced mobility ;
Motorized to allow optimization of energy consumption, respect for the environment and the satisfaction of degraded and emergency plans;
Active and passive safety ensuring the safe operation of trains;
Audio visual devices (Inter-phonies, sound, radio, announces closing doors, etc.), passenger surveillance (CCTV) and passenger information (visual announcements: light displays and dynamic lines plans);